My Castilla for a cosmo....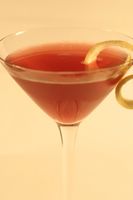 I distributed Belgian chocolates today, like a well-educated Spanish traveller. Of course, it wasn't all about my good manners: There are certain creatures with whom I just cannot spend a night alone. A box of Belgian chocolates is one of them.
Which got me thinking.
I really am loving this "bring everybody back a treat from your travels"
deal
. Really I am. Highly civilized.
What I'm NOT liking is the "tell everybody the tales of the wonderful things you ate and drank THERE (wherever that may be) that you'll know they'll NEVER find HERE."
Like Cosmos.
To quote a T-shirt:
My colleague Carmen went to New York and all I got was a detailed description of icy cold cosmos.
Cosmos! Co-co-co cosmos........COSMOS, I tell you! Hadn't thought about the word in a year and a half, beer, wine and small town Spain-loving girl that I am. But once the word crossed her lips...I could feel the cold glass...I was biting into the lemon peel... Oh! what I would give for an icy cold cosmopolitan.
And I here I thought I didn't miss anything. Til she started in on the bagels and lox in NY..and the Sunday afternoon Dim Sum in Chinatown..and the street dog with everything....and the cosmopolitan.
It's time to introduce my Salmantino cohorts to cosmopolitans and dirty martinis. Of course, there's plenty of Belgian beer for those who prefer it.
Tomorrow's Calle Toro shopping list:
1. Martini shaker and glasses at La Oca
2. Vodka
3. Cranberry juice. Yeh, right. (Actually, an already eager invitee brought me in a bag of frozen mixed berries today, hoping I might be able to work with those. I didn't have the heart to tell her the search must go on.)
And a stop at Hiperjardín to replace the petrified forest that was once my garden. Terraza party!
Anybody know if I can buy triple sec in a small town in Spain?
Labels: an american abroad