La Virgen de No Sé Qué
I'm notorious for attributing every Spanish work holiday, of which there are
many
, almost all in celebration of some long forgotten Catholic feast no one can explain to me, to
La Virgen de No Sé Qué
- the Virgin of I Don't Know What. You must understand, there is a virgin of the snows, and a virgin of solitude and a virgin of pain and ...the list is endless, and the kneesocked Catholic schoolgirl in me finds this amusing, in what is now not a religious country.
But this week even I know what we are celebrating!
We're in fiestas! My favorite 2 weeks of the Salmantino year have arrived. In celebration of Salamanca's patron Virgin, the Virgin of the Valley (Virgen de la Vega) we're enjoying 2 weeks of concerts, street performances, fireworks, street food, sporting events..... you name it, the mayor's imported it. Toga toting Romans have invaded the lot next to my house for a Roman Market (complete with stands selling Roman falafal and Roman crepes...hmmm..), and 57
casetas
line eight of the plazas in town - each set up by a different Salamanca bar, making "going for
pinchos
" as easy as setting out the front door in any direction - and walking - and eating - and walking - and eating....
The woman above took part in the procession that kicked off the festivities last Wednesday evening. Snaking their way across the Roman Bridge and up the hill through Plaza Juan XXIII, hundreds of people (members of traditional
charro
(the traditional dress/dance/music of Salamanca) groups, politicians, etc.) danced, played castanets and carried both the Virgin and basketsful of flowers to the new cathedral, where the floral offerings were put on display.
More pictures below. My personal favorite: the
charro
grooving with the castanets, behind the musicians.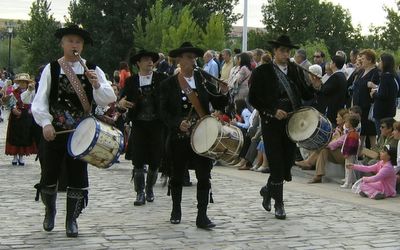 Labels: on living in Spain, salamanca