Pictures today, words tomorrow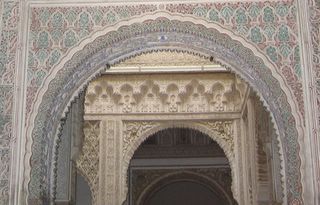 Weekend in Sevilla. Must sleep....
Sometimes it takes a week wandering with one of those rare and precious people with whom you can just
be
....to make you realize you don't spend enough time just being.
After a week with one of my favorite humans, the
castellano
is hurting (anybody seen my r's?) but the soul is flying.
And I'm prepared to reveal:
Reason 43
Wandering-Woman's 43rd reason to live in Spain:
Because in Sevilla....
People know how to spend time. (Click the photo for a better look.) Fans and a few good friends. Add
fino
and I'm sold.
Labels: wanders and travels