An afternoon in the stacks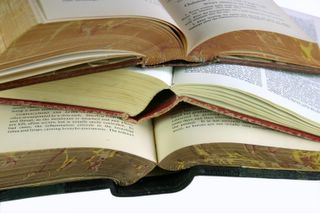 An Afternoon In The Stacks
by Mary Oliver
Closing the book, I find I have left my head
inside. It is dark in here, but the chapters open
their beautiful spaces and give a rustling sound,
words adjusting themselves to their meaning.
Long passages open at successive pages. An echo,
continuous from the title onward, hums
behind me. From in here, the world looms,
a jungle redeemed by these linked sentences
carved out when an author traveled and a reader
kept the way open. When this book ends
I will pull it inside-out like a sock
and throw it back in the library. But the rumor
of it will haunt all that follows in my life.
A candleflame in Tibet leans when I move.
I fell in love with a poet today. The day´s post on Superhero Journal (see my sidebar) introduced me to Mary Oliver, and I just had to surf off in search of more. She beat the hell out of my day at work.

And now my mouth aches from grinning at An Afternoon in the Stacks and I have another all picked out for another day. This one was for the bookworms, growing fatter with every read............
Labels: poetry